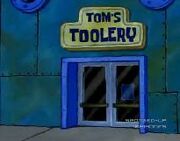 Tom's Toolery is a tool shop that appeared in the episode: Overbooked. Obviously, it sells tools. SpongeBob was sent there by Mr. Krabs to get him tools for his new Telescope.
It is unknown what the interior looks like, since in the only episode it was shown in so far, Overbooked, Tom's Toolery was closed for Porpoise Day.
The Outside is a huge building. A sign on the front glass door reads, "Dear Valued, Tom's Toolery Customers, We are closed this week observence of Porpoise Day, Please call Again".