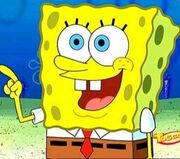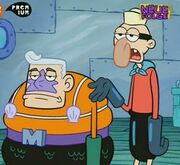 SpongeBob SquarePants (born July 14, 1986) is the main character of the American Television series SpongeBob. He is 32 years old. He has appeared in every episode. He was created by Stephen Hillenburg and he is voiced by Tom Kenny. He works at the Krusty Krab. He has lots of employee of the month awards.
Appearances
Edit
Welcome to the Chum Bucket
SpongeBob looks like a square sponge. He wears brown pants with a red tie with black shoes.